A great adult class is being offered at
Mount Liberty College.

The perfect way to get a taste of what a great liberal arts education looks like!
Liberty, Leadership, and Virtue
6 weeks beginning Aug 18th:
6-8 pm at Mount Liberty College campus
**Registration and tuition are due by August 11th.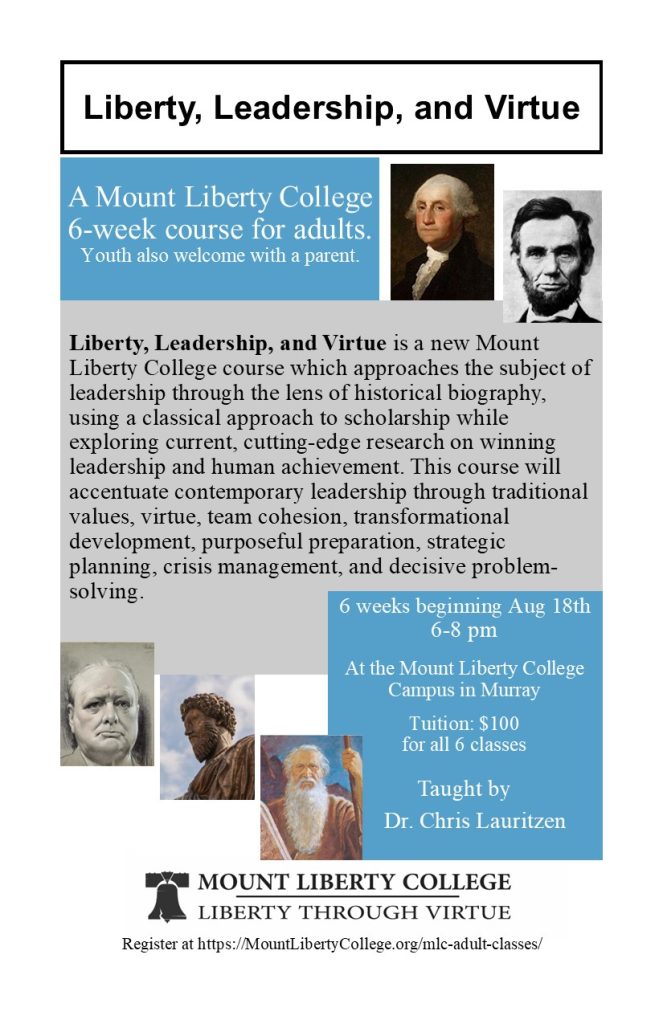 Christopher S. Lauritzen, DDS, Ph.D., ABGD: BA in Liberal Arts from Utah State University; Graduate Certificate in International Healthcare Leadership from Park University; Master of Health Services Management from the University of Mary Hardin-Baylor; Doctor of Dental Surgery from the University of Nebraska; Ph.D. in Values-Driven Leadership from the Goodwin College of Business at Benedictine University; one post-doctoral fellowship; and two dental residencies. Faculty appointments include Webster University, the University of Utah, and the Logan Institute of Religion. A retired colonel, he is a former US Army Infantryman and Special Forces officer. He has commanded six military healthcare clinics and one elite airborne infantry unit. Dr. Lauritzen is a board-certified comprehensive dentist treating underserved patients in Northern Utah and is involved in the local community. He speaks and teaches on high-performance teams, crisis management, leadership, and liberty through virtue.